Explore the surrounding area of the winery
What to discover around ?
For the winelovers, you will find ideas of trip on Rue des Vignerons "

Wine and travel Guide

". They will give you advices and tips for the road of wines.
– For example, at only 20 min of road, take time to go to Avignon and discover this wonderful City of the Popes. Please find some information here.
– And if you want to stay in the region, but in direction of Spain, don't miss the city of Montpellier and the vineyards of the languedoc. Please find the information here.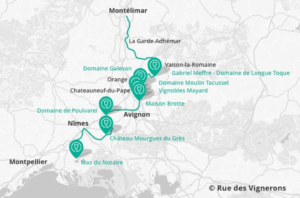 Ready for a bicycle tour?
Enjoy the sunny days to discover the region thanks green lanes !
There are several bike paths through the Gard departement. You can find them on this intercative map. Take time and plan your road !
Our recommandation : the cycle lane which pass through Sernhac
– In direction of the North, cycle on 5,5km, and discover the Pont du Gard. Enjoy this majestic antique aqueduct and take a dip in the Gardon river !
– In direction of the South, go to visit the Saint-Roman abbey. You will have to cycle on 11 km to discover this wonderful troglodyte monastery. Don't hesitate to continue to Beaucaire to enjoy the city center and to stroll on the dock.
Do you want more idea ?
For example, there is the aqueduct loop (find the information below, unfortunately only available in French) :
Do you need a break ?
We will be delighted to host you at the winery for a tasting. You can also enjoy your time with a visit of ancient tunnels Perrotte and Cantarelles.
In addition ?
Located near the bike path, the winery make available a repair kit for the small damages !